Store Renovation and Remodeling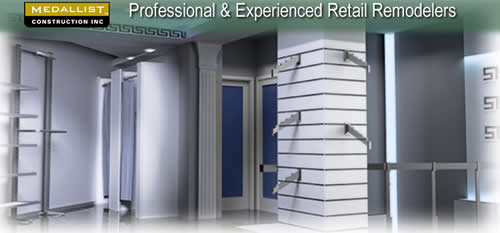 I am sure most of the business owners and operators in Toronto have experienced remodeling your store in the past. Hopefully your project(s) have always gone according to plan. Moreover your plan form the outset was based on making your customer's experience more pleasurable when visiting your retail outlet. Even if you want to remodel to improve employee workspace—it helps your customers. Remodeling your retail space should be focused on your customer. Why?
Increase revenue through atmosphere and word-of-mouth
Shows you understand what pleasures your customers by paying attention to their experience
Provide a tailored shopping climate to increase store traffic and gain loyalties
Selecting the Right Toronto Store Renovation Contractor
Of course before you plan any store remodeling project, professional and experienced retail remodelers should be brought into the loop from the outset. They will be your guiding light into making your vision reality and more. Realistic costs, suggestions, advice and construction timelines will be uncovered quickly.
Medallist Construction would like to be your store remodeling contractor of choice. However that may not always happen. If you elect to have any contractor provide renovation services to your precious store in and around Toronto (GTA), we recommend asking the following questions for your own piece-of-mind:
Company History and Principal contact information.
Banking contact information.
Contractors' Insurance Policy information (Certificate of Insurance available upon request).
WSIB registration number (Clearance certificate available upon request).
Metro Toronto Building Renovation license
List of trade/business organizations we belong to e.g. BILD.
References list.
Planning Your Store Renovation Project
Planning is the key to your store renovations. It is often the one single factor that will make your project a dream or a nightmare. In a retail business you simply cannot afford a nightmare, especially when most retailers are constantly upgrading retail environments. Our experience has led us to conclude, employing lifecycle space planning requires collaboration between your contractor and staff members that can provide sound input.
"According to a recent study funded by Procter & Gamble, when customers cannot find the products they want and need and where they want them, the cost to retailers can represent as much as 40% of intended sales. And when customers cannot find the product they want, 31% will purchase it at a competitor, 15% will delay their purchase, and another 9% won't purchase the item at all."
Source: Out of Stock study funded by P&G, sponsored by FMA, FMI and NACDS and conducted by Thomas W. Gruen,Ph.D., University of Colorado at Colorado Springs, USA and Dr. Daniel Corsten, IE Business School Madrid
The bottom line is you need to make what your customers come to expect easily accessible. Otherwise they'll buy it from your competitor or take more time to make a store purchase. How to best utilize your retail space is a planning science our store remodeling team will help you develop. Our development skills will derive from your retail goals and expectations. You'll often discover our retailing planning delivers beyond expectations.
We will service you with the intent of building a long term relationship…a relationship that you can come to depend on time and time again.
Store Remodeling Pictures
Back